Palacio de Congresos de Granada
Paseo del Violón, 18006 Granada
Tel. +34 958 246 700 – Fax +34 958 246 702
email: palacio@pcgr.org  –  web: www.pcgr.org
Granada began to take its place on the international map in the conference sector in the 1980s. That was the reason why then mayor of the city, Antonio Jara, decided to create the Granada Conference Centre and thus initiate a stage of economic growth.
The large sculpture upon which the building is centred offers a triple functional use: a viewpoint towards the city, an access and entry staircase, and a connection between the park and the building. This form allows the important connection between the exterior and interior use of the building.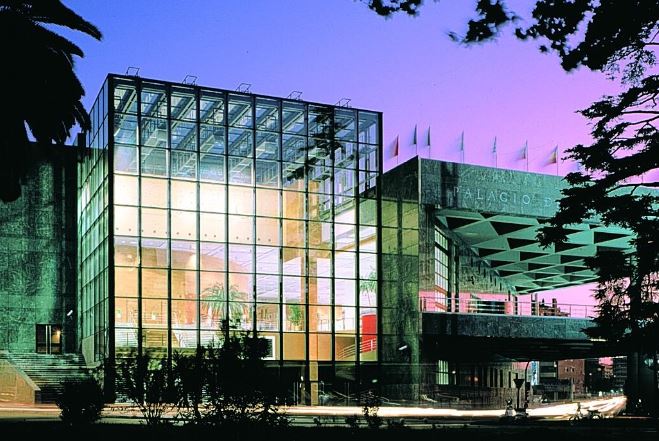 The large capacity rooms being connected with smaller rooms and the exhibition hall allow a vertical interior design, in which the majority of the rooms are located on different levels.
The main room, which can host 2,000 people, is located at the centre of the building with a semi-circular form to adapt to the geometry of the premises. The building also has soundproofing in order to isolate sounds, allowing events to be held simultaneously in the different spaces.
Airports
Federico García Lorca Airport (GRANADA)
Federico García Lorca Airport is currently connected with six daily flights to Madrid and three daily flights to Barcelona. It is located 15km from the city centre, with buses to and from each flight.
Pablo Picasso Airport (MALAGA)
The Pablo Picasso International Airport is located approximately 130km from Granada, connected with all European cities with regular daily flights and, thanks to the motorway which connects both cities, can be reached in just over one hour by car or bus.
Flights and routes.
See the AENA website – Telephone: 958 245 200
Train
Latest generation trains connect Granada with all of Andalusia and with the main Spanish cities. From 2015 the High Speed network will be operational, thus significantly lowering the length of journeys.
Avenida de Andaluces, s/n 18014 Granada – Telephone: 902 320 320
Information, timetables and journeys on their website: www.renfe.es
Bus
Granada is very well connected through the network of motorways and constant bus services throughout the country.
Bus station
Address: Carretera de Jaén, s/n. 18014. Granada.
Telephone numbers: 958 18 54 80 / 958 25 13 58